Search by a topic keyword, or browse the curriculum by subject or key stage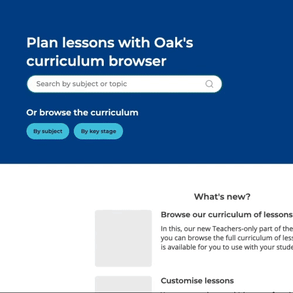 Using our dedicated Teacher Hub – which mirrors our Classroom – you can browse and easily find what you need from a selection of thousands of resources. You can also download accompanying lesson slides, worksheets and quizzes.
You can select your desired key stage to explore units manually, or search by subject by selecting 'subject' from the top-right of the page. You can also use the search bar to find desired relevant topics quickly.
Tip: if you want to browse lessons specifically for certain year groups, searching 'By Subject' will allow you to select your desired year group and view suggested units.

You can also download our full curricula for each subject and map these to your existing curriculum plans.
You'll know what's best for your pupils and school, so our aim has been to make our resources as flexible as possible.
We've worked with subject associations, exam boards, and a wide range of education experts to try and choose the most popular topics, meaning we can support as many schools as possible across a broad curriculum.
To get started, click the Teacher Hub button on the website or visit our Teacher Hub.