Find out more about how you can use Oak in other languages.
Contents
---
How translations work
Using your web browser, it is possible to automatically translate our online classroom into several languages.

Translating the lessons is a two-part process, which involves:
setting the translation language in your browser (eg. over 100 languages in Chrome); and
enabling translations of worksheets, available for the following languages:
Welsh (Cymraeg)
Irish (Gaelige)
Scottish Gaelic (Gàidhlig)
French (Français)
Spanish (Español)
Portuguese (Português)
Polish (Polski)
Romanian (Română)
Arabic (العربية)
Bengali (বাংলা)
Gujarati (ગુજરાતી)
Punjabi (ਪੰਜਾਬੀ)
Ukrainian (Українська)
Russian (Русский Язык)
Somali (Soomaaliga)
Tamil (தமிழ்)
Urdu (اردو)
Oak has always been designed to be in the English language and so we know these translations may not be perfect, but we hope this update will help to support teachers, parents and the wider community in keeping pupils learning.
To get started, visit our Classroom and follow the instructions below.
You will need to follow both steps to translate our lessons in full.
---
Enabling translations

Translating the lessons is a two-part process, which involves setting the translation language in your browser, and enabling translations of worksheets. We recommend following both steps to best benefit from our Classroom.
Browser translations
Firstly, you will need to enable automatic translations in your browser. Support is available here via external websites for:

Chrome

Safari

Firefox (requires an extension)

Microsoft Edge
Worksheet translations
Our worksheets cannot be translated automatically by browsers, so require an extra step.
Please follow the instructions below:
1. Click the globe icon (

) in the top menu. This appears on the Classroom homepage and worksheet pages too: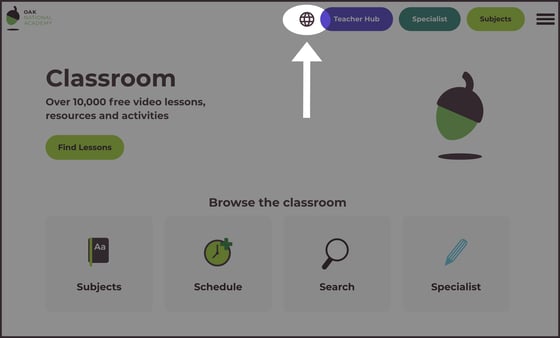 2. Select your preferred language here and click Confirm: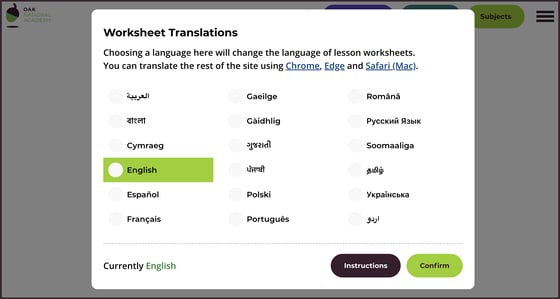 If you feel that videos are moving too fast when using translations, you have the option to change playback speed. Selecting the 1x in the video menu will show you different options to slow down or speed up videos.
---

Frequently Asked Questions


Is this article available in Ukrainian?
You can find support for Ukrainian translations here.
Ця стаття доступна українською тут.

What parts of the lesson are translated?
The Classroom interface and menus, and the lesson quizzes, worksheets and video captions.

Are the printable quizzes in Oak's Teacher Hub translated too?
Not at this time, but translated quizzes can be taken online in our Classroom.

Do I need to go through this process every time I revisit Classroom?
Once you've enabled the translation in the browser, it will remember the language selection – so next time you will be able to directly select translations option more quickly. The translation persists until the page reloads - so if you navigate away from the Classroom you will need to enable the translation again.

How do I turn off the translations?
Simply navigate away or reload the web page, and translations will discontinue.

Why do you not suggest using Safari?
Safari only supports translations in the browser across a limited group of languages: Arabic, Chinese (Mandarin), English, French, German, Italian, Japanese, Korean, Portuguese (Brazil), Russian, Spanish.
---

Contact us
If you have any questions, you can email us at help@thenational.academy. Alternatively you can get in touch with form.
We are an English-speaking team, but will do our very best to help where we can.
---
Help with using Oak
To understand more about how Oak works and how you can use our Classroom, you can read more of our articles or visit our help pages here. Our website is in English, so remember you to have enabled translation through your browser if you need it.
If you need further support, you can email us at help@thenational.academy.