A step-by-step guide to getting started...
Welcome to Oak National Academy! This guide will:
Explain how teachers can make use of our lessons and resources

Provide some tips on preparing for remote teaching
Prefer to watch a video? Take a look at our video guides in this category.
---
What is Oak?
Oak provides a completely free, sequenced plan of video lessons and resources. Your school can use it as you wish to support remote teaching, help lesson planning and lower teacher workload.
There are nearly 40,000 lessons and resources across a broad range of subjects from Reception up to Year 11. In most subjects, there are enough lessons for the whole year. There are also 600 lessons for students who normally attend specialist settings.
Every lesson has been created by teachers, for teachers. They've been tried and tested: since April 2020 pupils have taken part in 150 million lessons.
The website has been designed to be easy to use for teachers, pupils and parents and is accessible on most devices, including laptops, tablets and mobiles. There are no sign-ups or logins required.
Oak is split into two main sections: one is a classroom designed for pupils and another a hub specifically for teachers.
---
You'll know what's best for your pupils and school, so our aim has been to make our resources as flexible as possible. As part of this we've worked with subject associations, exam boards, and a wide range of education experts to try and choose the most popular topics, meaning we can support as many schools as possible across a broad curriculum.
If you're using Oak to plan ahead, the first thing we'd recommend you do is go through Oak's units and map them against your existing curriculum to assess where they match.
To help you do that, we have created a curriculum map for each subject to help your planning. You can access these via our curricula page or at the top of each unit for a particular subject.
Each map provides a curriculum rationale, an outline of all topic units available and how many lessons are in each. To help you, we've provided information on the pre-existing knowledge needed for any unit. There is also a suggested sequenced order of lessons, if that works for you - but you are of course free to use the units and lessons in any order that suits you.
You can also find the maps within our Subject pages in Teacher Hub: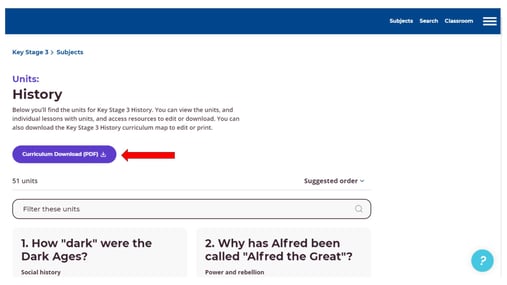 Search all lessons by keyword
Use our curriculum browser search bar to search the entire bank of lessons by keywords. This is helpful if you're after a topic or objective that might be in a number of different subjects or age groups.
Here you've got all stages from EYFS to key stage 4. These are by key stage rather than year group to allow a more discrete selection of lesson materials based on the different needs of pupils.
By clicking on a subject area, you can then easily access each of the units available for the key stage. Click through to a unit to see an overview of each lesson. Clicking on a lesson gives you a detailed view of what the lesson entails and all its accompanying resources.
---
Lesson content and structure
Each lesson is made up of similar items – most have a multiple choice quiz, then a video explanation from the teacher, there may then be a worksheet or exercise and a multiple choice quiz at the end to check understanding.
Accessing the lesson via the Teacher Hub allows you to review each section of the lesson, seeing each element individually - the video, presentation slides, worksheet, quiz - and you can even get a transcript of the video which is great if you want to quickly skim to see what the lesson covers.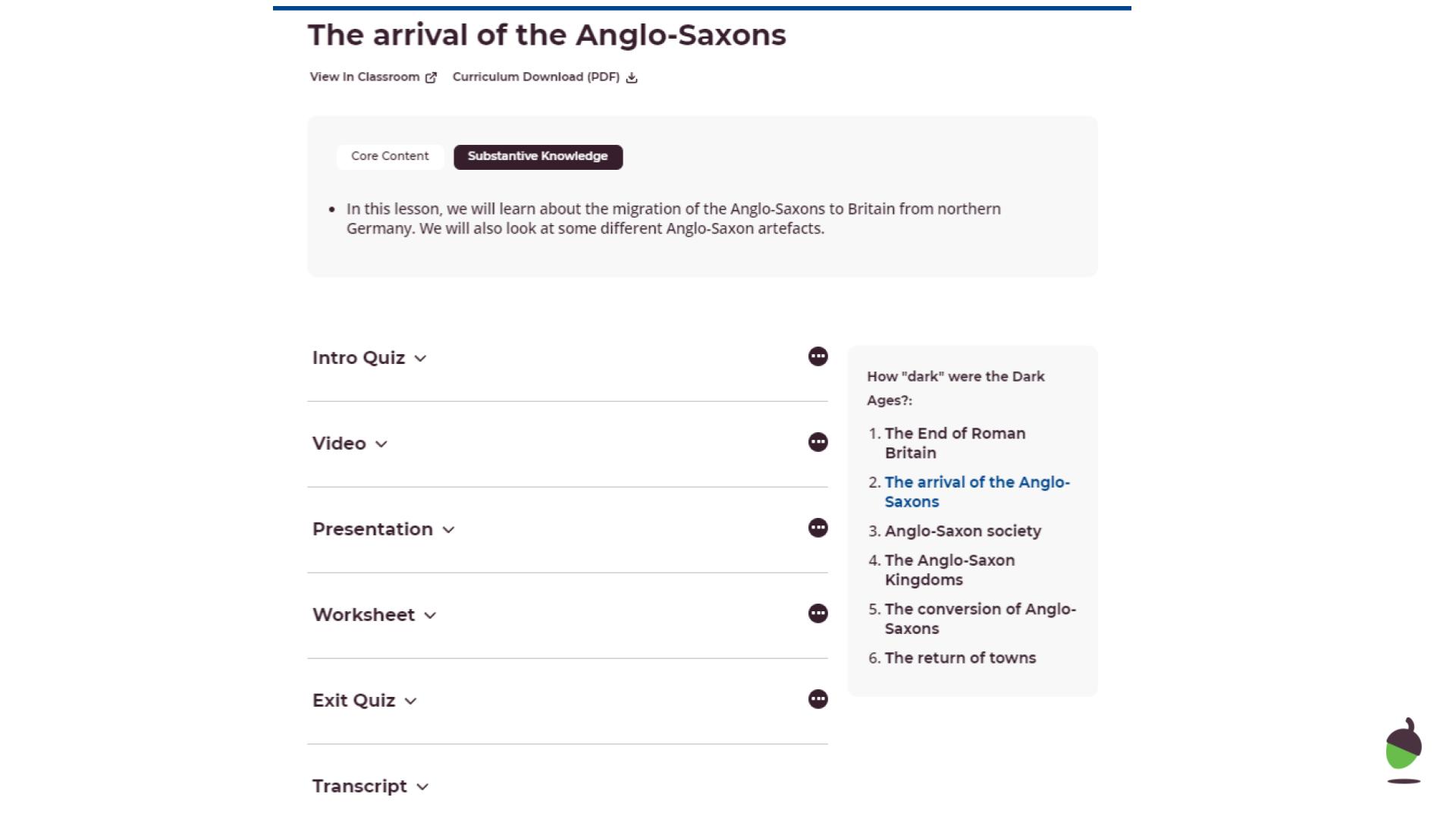 ---
Downloading and sharing resources
Wherever copyright allows, which is on the vast majority of the 10,000 lessons, you can also download the slides and any worksheets allowing you to edit and adapt them for your class.
You are also able to share Oak lessons in a variety of ways, either sharing links to the lessons with colleagues or with your classes by copying and pasting a lesson URLs link or by posting lessons directly to your VLE by clicking on the 'share' button.
You can customise the lessons, choosing to share them in their entirety or part of a lesson - maybe just the video without a worksheet, or turning on or off the quizzes, is more appropriate for your pupils. You can do that easily to ensure the learning is personalised and relevant.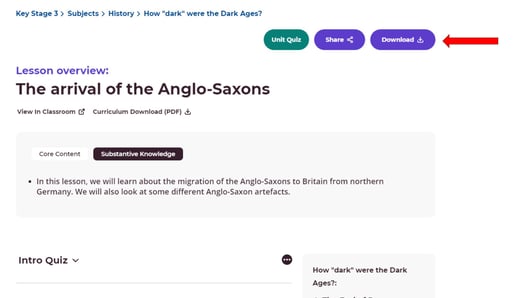 ---
How to use the resources
Oak's resources are designed to be flexible, so can use them in a variety of ways to support your teaching. Some of the main ways we've heard teachers are using Oak
Lesson planning - Whatever subject, key stage or topic you're teaching, we have lesson slides, worksheets, quizzes and teacher-led videos which you can use as they are or download and adapt to meet the needs of your pupils.
Homework and revision - Teacher workloads are stretched far enough without spending hours creating topical homework, revision booklets and after-school sessions. For building skills and knowledge outside of the classroom, explore and share our lessons with your classes instead.
Setting cover – Oak is the ace up your sleeve when it comes to setting cover. Our resources make up over 10,000 complete lessons (from Reception to Year 11) to take the pressure off, especially when there's a requirement for a colleague or supply teacher to cover a subject or key stage that isn't a specialism. Simply select a lesson and share the link.
Supporting absent pupils - There are many reasons a pupil may be absent from lessons or from school: from covid disruption to medical absences or exclusion. Our ready-made resources mean you only have to plan your lessons once, no matter where your pupils are learning. Download resources in the Teacher Hub for your in-class teaching, whilst sending the same lesson to any pupil at home via Google Classroom, Teams or any other platforms.
CPD - We've heard from schools that they are using the lessons in staff training as an alternative observation resource or helping new teachers see examples of how other teachers teach a particular topic. To help support this, we've produced a set of videos that ITT providers may wish to use to support their trainees in observing, deconstructing, analysing and adapting lessons.


We're often asked about tracking students' work. Keeping accessibility in mind has meant there's no login. But this also means we can't track individual students' work.
To help assess pupils progress, your class can share quiz results with you once they have completed a lesson. This means you can track pupils' progress even if they're completing it independently.
How it works:
Pupils complete a quiz before or after a lesson in our Classroom
The quiz is automatically marked and pupils are shown a final score
The pupils can then share the score directly to Google Classroom or Microsoft Teams, or copy a unique link to email you or upload to your school's VLE
Teachers are able to see a breakdown of the pupil's answers by question, as well as the final score. Using the quizzes is a good starting point to show how pupils are progressing and to identify areas where they may need further support.
Our online classroom layout is much more suited to pupils and user-friendly for pupils and parents accessing lessons at home.
Each lesson builds on the previous one so they can start and then just follow through if that's what you choose to do and it fits with your topic plans.
The classroom view exactly mirrors the corresponding lesson from the Teacher Hub. It's just more functional for the child's learning needs.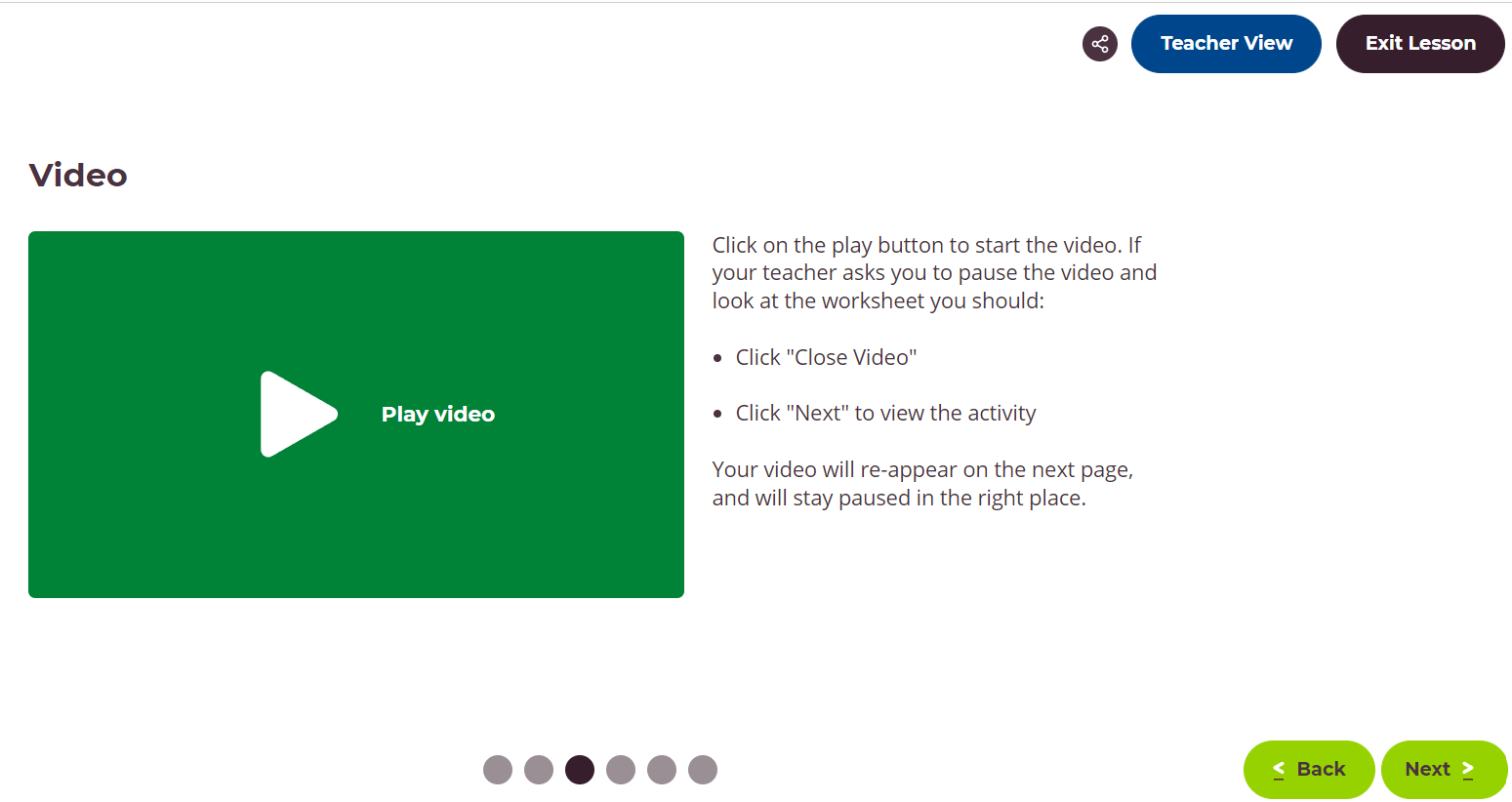 Accessibility is really important to us, so our lessons contain captions which can be switched on and off and English and Maths lessons at KS1 are BSL interpreted for our youngest learners.
Each lesson is designed to be undertaken by children without detailed support of parents, except for some lessons in the strand for pupils who attend specialist settings who need a little extra help.
Each lesson can be paused and tracked back to give children time to understand and complete tasks. Everything is accessible from the same website. And once they've finished a lesson, they can click back to your VLE and finish any other lessons for that day.


Our specialist lessons have all been developed by specialist teachers or therapists and sit as a separate subject area within the classroom and teacher hub.
The lessons are structured slightly differently to our mainstream offer. Each area has an introduction from a specialist teacher aimed at parents or carers, explaining how to use these lessons and topics for their child.
These explain how to use them most appropriately as we know the range of needs of students accessing the specialist content could vary significantly.
Below this introduction are each of the units. The lessons follow a similar approach – but are focused on the video and any extra instructions will be given by the teacher.
---
Tips to help you plan: Support and FAQs
To keep up to date with what's happening with Oak, make sure you sign up to our mailing list and follow us on @OakNational on Twitter, Facebook and Instagram.
Our lessons and resources are all created by teachers, for teachers. We really hope they can support you as you continue to support your pupils, through what we know is a challenging period.